email me at esbee@1starnet.com


Equine and Pet portraits

custom saddle stands

Texas landscapes and bluebonnets

Westerns, Whimsical Abstracts


also doing work for commercial based clients


working in...watercolor, acrylic, pencil

Like a good horse, good art is an investment!
Original fine art can not be compared to imported art, which are cheap imitations made with poor quality paints and canvases of an image (often originating from stolen copyrighted images)

that sells for little or nothing at big box stores,

so please do not expect a price similar to that.

But, considering the economy, I have kept my prices very affordable.
A kind thank-you to all my clients who realize that quality, original art is
something that will show an

increase in value, both monetary and sentimental, making it well worth the investment.
custom saddle stand- pine wood with acrylic painting
Offering original art and horse and pet portraits.
Reasonable prices. Satisfaction guaranteed.
Thanks to the many customers that have made Morning Light Studio website very successful. Without those who collect my original art, there would not be a Morning Light Studio. God bless you as you consider adding one of these fine pieces to your collection.
Please remember and respect that all images on this site are copyrighted by the artist. If you have any question about using them, please contact the artist.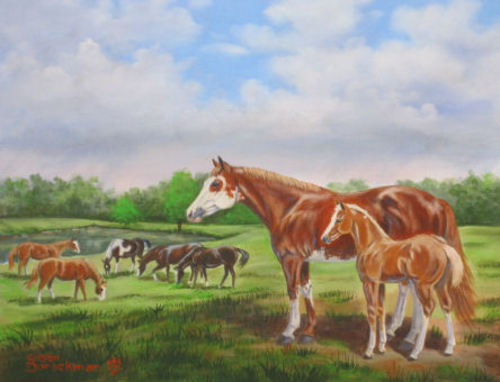 "Brandy on My Sock and First Foal" acrylic
16"x20"
thanks Dr. Beeler of Pecan Gap Vet Clinic in Texas! A true country vet!